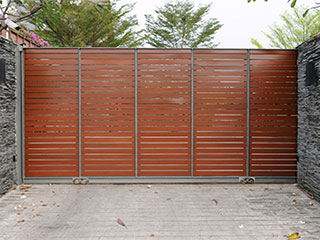 Homeowners looking to invest in a new driveway gate are often bewildered by the sheer amount of choice available today. There aren't just a couple of different types to pick from; there are scores, if not dozens. With options including a wide range of materials and different mechanism types, it's essential to know what's right for you before you start looking around. Depending on where you leave, and how much space you have available, some type of system may be more suitable than another. That's why our experts created this handy guide, so you can quickly decide what's best the most suitable option for your home.
Single or Double Swing Gate Systems
These systems are designed to work just like the normal residential doors, and can have either a single or a double door. This type of mechanism can look great, and won't require much space alongside your driveway in order to open. However, a swinging driveway gate will need a lot of front or back space to move, as its doors will swing in or out. These systems are also difficult to install on an incline, although it can be done (get in touch with our team to learn more about that).
A Sliding Driveway Gate
This type of system moves laterally, sliding out of the way so a car can pass through. This means you'll need a lot of side space; at least the width of the driveway itself, plus a few feet. Your gate will also need a set of tracks to run along, which can become clogged with debris. It's worth bearing this in mind if you expect a lot of leaves and other debris to fall, because you may find your tracks getting blocked regularly, which can become annoying very quickly.
Start Looking For Your New Driveway Gate Today
Our technicians are always ready to provide in-depth expert advice to any home or business owner who's looking for it. Now that you know your sliding mechanism from your swing-type system, why not contact Gate Repair Beverly Hills, to find out what our team can to help you?