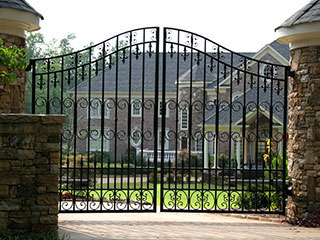 Wrought iron driveway gates can vary depending on their size, design and operation method (swinging or sliding). However, they all share some common problems that can worsen when neglected. These issues will make your life a little harder if they aren't treated properly in a timely fashion. Regular maintenance is something every large mechanical system needs to undergo on a regular basis, in order to detect when things like peculiar noises and shaky movement begin to occur. These are precursors of major issues, so it's important to catch them early on.
Protect The Electrical Components
The driveway gate opener is one of the few electric devices the system has and it needs to be checked often. Despite the great progress of technology, these units are still exposed to elements on a daily basis, and all sorts of things like pests, moisture, and even wind can damage their exterior or interior. For example, the wires should be neatly protected and not be exposed to the open air and weather conditions. If they are visible, you should examine their condition periodically and try to keep them covered.
More Specific Maintenance
The sliding gate chain (if you have one) is one of the most important parts of the electric unit because it's what actually pulls the panel and therefore it needs routine examination and lubrication. It's wise to consult the manual in order to make sure you're following the right instructions. The chain should be lubricated and occasionally adjusted too. If it's old or damaged beyond repair you should get it replaced before your gate opener ends up failing and you get stuck waiting for help when it's least convenient. The same goes for the wheels. If you have a swing gate, you should lubricate the hinges and check them periodically as well.
Troubleshooting Common Problems
If your electric gate isn't closing properly you can have a major security problem on your hands. You must first check the opener and see if it's the source of the problem. Check and clean the sensors and make sure they're properly aligned. A false-positive, which is what happens when these units mistakenly detect an obstacle - can explain why your gate keeps opening when you try to close it. The problem may not necessarily involve the electric unit, though. If you have a sliding gate, it might be the track. Dents and accumulations of debris can keep the wheels from rolling properly and may even prevent them from moving past a certain point. Gates may also lose balance or become misaligned due to problematic rollers or rusty swing hinges. You need to remember that most mechanical parts now come in galvanized varieties if you want to keep rust at bay more efficiently. Of course, if you find yourself in need of expert gate repair services, don't hesitate to give our team a call.