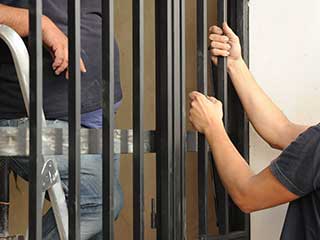 To give your home or business an extra edge in terms of security and curb appeal, your driveway gate should have certain attributes. It needs to be strong and durable, but also visually appealing so that visitors – whether guests or customers – would be impressed as soon as they notice it. This would most likely be the first thing they notice, so it's important to make a good impression right off the bat.
Wrought Iron Gates
The ornate and intricate beauty of ironworks frames is undeniable. It holds a certain luxurious appeal that's hard to beat in terms of its high class-type of appearance. There are downsides, of course, as is the case with anything. The existence of bars, vs full panels, means that privacy can be less than ideal. There's also the matter of maintenance, as wrought iron gates need to be repainted in order to prevent them from rusting.
Strong Steel Gates
Steel is a great choice of material for those valuing security and privacy above all else. While this material can have a certain amount of curb appeal, especially with some unique design options, its main benefit is its ability to improve security and add privacy. The main downside with this material is the weight, seeing as how a steel gate usually consists of a full paneled door (or doors), it would require a more powerful electric operator in order to function automatically.
Beautiful Wooden Gates
Much like a regular door, a gate made of this material holds a classically appealing look that can give your property a more rural and homey vibe. There is a lot of maintenance involved, however, as moisture can lead to rot or warping, which means that some repairs and repainting will be in order every so often.
Different Types of Operation
The amount of space you have available outside of your driveway or along its sides will determine which type of system you can install. If your home or business is close to a street or a road, then a swing gate may be out of the question, due to the fact that it needs a certain amount of space to swing outwards or inwards. If there isn't a lot of space alongside your driveway, then a sliding gate may be a problem to install, as it moves laterally and requires room to do so. Get in touch with Gate Repair Beverly Hills today to consult with our experts on the type of system and material that will best suit your needs. Rest assured that our custom gate building team will help you find exactly what you're looking for.
We also offer the following:

Elite Gate Opener

Driveway Gate Service

Parking Garage Gates

Phone Entry Systems